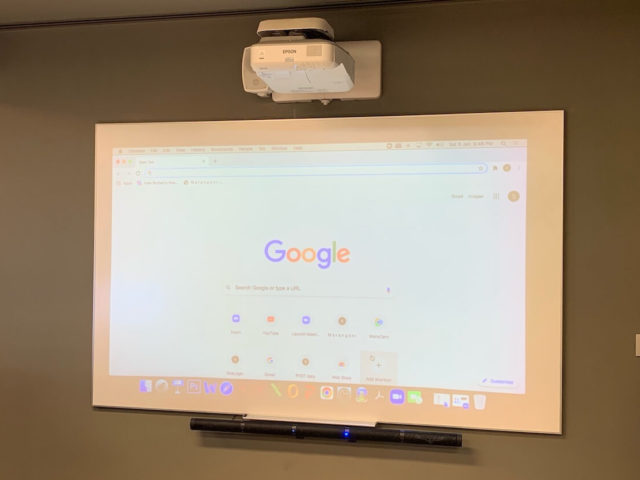 Video Conferencing to help engage Students and Teachers collaborate seamlessly
The Istituto Marangoni is a private Italian school of fashion and design. It is based in Milan, in Lombardy in northern Italy. It currently educates 4,000 students per year from 107 countries. They are a unique blend of academic learning and creative practical activities.
The client wanted to create a smart classroom with the latest AV Technology so they could engage students outside the classroom dynamic and provide a positive learning experience, expand their boundaries and deliver live lectures effectively and efficiently.
Ensuring high quality of video and audio delivery.
Ensuring that the visibility and clarity of the images and speech is very high.
Incorporating the preferred tools of the faculty – whiteboards into the learning space.
What was IMM looking for?
The Istituto Marangoni Mumbai is a private fashion and design school that educates 4,000 students every year across 107 nations.
The client required a future-ready and scalable infrastructure for seamless communication between their teachers and students.
IMM required a smart classroom with the latest AV Technology so they could provide a positive learning experience and deliver live lectures efficiently.
How did we Help?
Using our expertise, we enabled well-equipped meeting rooms with AV solutions using Zoom technologies.
We delivered a highly collaborative and interactive solution to the institute. It included an audio conferencing microphone solution, MT600 Condor for clutter-free audio experiences. Vector WRR Wall-mounted speakers and Amplifier ADS were installed for sound optimization.
Allwave AV Systems helped the institute with a seamless collaboration solution, wherein their team can now enjoy the ease of using the Zoom Room setup.
" Your company's installation plan was executed well and made it possible for tutors to deliver the curriculum in a hybrid mode as we are not fully physical yet due to the pandemic situation in Mumbai. Students and Teachers are happy and satisfied with the technology and tutors are more comfortable using the hybrid setup. We thank you for all your support. "
The team can now enjoy the ease of using the Zoom Room setup. Various workflows are simplified and increased collaboration has been observed. The room introduces interactivity and also enables seamless video collaboration. The more regular use of AV Solutions is bringing flexibility to their facility.